Happy New Year!!! Wow, it's already 7 days into 2016! I'm so behind on
all
my craftiness! One of my new year resolution is to blog more and keep up with the crafty world!
So, I finally received my new Hero Arts Milwaukee Heat Gun!
This heating tool is fabulous! It heats up quickly like all the reviews have described. BIG thank you to my loving boyfriend who totally supports me and my craftiness! So happy!
I purchased a new planner for 2016 from PTI. I'm a planner user. I'm excited that I can be a crafty with my planner too! There are two versions: spiral-bind and binder.
I'm also a binder user (even for school stuff... never a spiral bind, which gets worn out so easily). I didn't want to spend extra money to get a new binder (even though I really like them from PTI), and thinking that I can I have these mini binders in my office supplies, I decided to get the binder version. Little did I know that, of course PTI has to make their own binder that is not quite standard size! Now I have to get PTI's binder. I'm not thrill about spending more money, at the same time, I really like the this: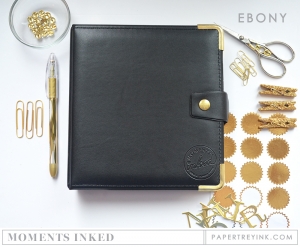 This looks so classy! I like the white one too. My friend,
Ashley
, got the white one and it's gorgeous. Knowing me, I'm going to the white all dirty; black is a good choice. So guess this binder is also on my wish list (a wish that will be fulfilled within the next few weeks, haha!).
A few more things to continue from my 2015 wish list (continuing from last post...):
4) Couture Color Winter 2015 Collection from The Ton
Most of my inks are from Stampin' Up inks and a few Hero Arts (HA) and Simon Says Stamps (SSS). As much as I want to expand my HA and SSS inks, they have way too many colors! But these collection from The Ton is not too bad. The colors are beautiful - all 31 of them! That rose gold bangle pigment ink is so lovely. The price is $200 for the whole collection.
5) Mini Distress Ink Pads Kits
I have half of the distress ink collection. I'd love to complete the the set.
6) Die-namics Inside & Out Diagonal Stitched Square STAX from My Favorite Things
These little square are so cute! The diagonal stitches really add to the design and accents the squares so well! I've seen so many cards using these and I really want to try them out myself. MFT also have the rectangle version as well.
That's all for now! Thanks for stopping by! I hope to post some crafty projects soon!